Come Visit Us
Location:

Two-minute walk from Yotsuya JR and subway stations.

Hours:

Mon to Sat 5:30 pm – midnight

Sun & Holidays closed except for advance group reservations

Last order 30 min before closing time

Phone:

03-3353-8842

We Accept :

VISA, Master, Diners, Amex & JCB Card

See Directions




MINI LIBRARY—For Our Booklovers
The Sun's Mini Library has been running itself on a small shelf in the entrance corner for countless years. It's free. It's simple. Take any book you want but try to leave another in its place. There is no check-out. You are your own librarian. If you think someone else may enjoy a book, return it if you can. Keep it if you want. The turnover is constant. So look over the selection whenever you are in. And ask where to look for additional books because there are often many more than will fit on the small shelf.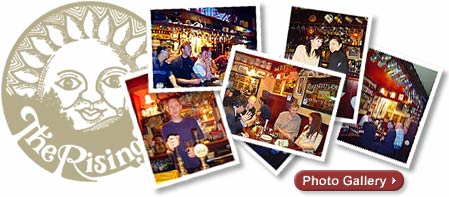 Midst the continuing worldwide COVID-19 pandemic, The Rising Sun is deeply concerned about the health and well-being of our customers and staff and about the safety of people everywhere. We are therefore heeding the advice of the experts:


Business hours from 16:30 - 21:00 will be extended to October 24.

Due to the period for implementing COVID-19 Rebound Prevention Measures



We will miss seeing you but look forward to raising a glass with you after this scourge passes, as it surely will.




Take Away Service
From 16:00 to 19:30
Takes 20 min. for preparation.
Please call 03 3353 8842 to enquire

to Take Away Menu



Smoke Free

The Rising Sun is going smoke free from April 1, 2020 in compliance with enforcement of the Tokyo Metropolitan Passive Smoking Prevention Ordinance from same date

.




Celebrating 45 Years



The Rising Sun recently turned Forty-Five! Please help us make this landmark in our long history even more exciting and memorable by sharing your thoughts, memories, stories, and wisecracks with us and all of our and your many friends of The Sun. Your comments will appear a day or two after posting.

You can also view some 45th anniversary party photos, courtesy of Dermot.

Here is what people are saying. Share your stories, too. !




New: Happy Hour Gets Even Happier





On Mondays and Saturdays, Happy Hour now runs from 5:30 to 8:00 PM. On top of the usual Happy Hour specials, the Extended Happy Hour on these days additionally offers a 10% discount on pub platters, plus three light-meals (Shepherd's Pie Lite / Sausage & Chips Lite, Cheese Pie Set, and Ham or Cheese Sandwich with Chips) all affordably priced at 700 yen.




Fun Gatherings at the Sun





A number of clubs and groups meet regularly at The Rising Sun, some private and some open to anyone who wants to join.
Learn about the Gatherings !




About The Rising Sun





The Rising Sun grew out of the dream of Jerry Hegarty. Back in the early '70s, Jerry was intent on creating a Victorian-style pub in Tokyo as authentically designed, built and operated as any in Britain. And when you visit us at "The Sun," as the regulars call it, you will see how exquisitely he did it.

Most first timers immediately begin examining the pub's distinctively British trappings—the pub mirrors, pub sign, pewter mugs, yard-of-ale... and even a couple of chamber pots.

But visitors also quickly sense that The Sun is a lot more than just traditional décor—that it is a fine blending of a warm, friendly pub atmosphere with great food, a broad selection of drinks, and a cordial and helpful staff.

If you are coming in with friends for a special occasion, be sure to let us know a day or two before, so we can help you make it Really Special.

We look forward to seeing you soon at
The Rising Sun
Tokyo's Oldest British Pub
Tokyo's Friendliest British Pub